Product Description
Conductive Foam in both Pin Insertion and Cushioning Grades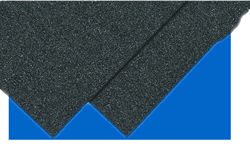 LD50CN High Density Closed Cell Cross-linked Conductive Polyethylene, EV45CN (EVA Copolymer Conductive) Foams:
*  are inert and  lightweight
*  are tough, flexible and  resilient
*  are highly energy  absorbent
*  are easily fabricated using  well known techniques
*  are easy to thermoform using  standard vacuum forming or heat impression molding  techniques
*  have a very wide operating  temperature range
*  exhibit excellent chemical and  water resistance
*  do not cause staining of paint  finishes
*  do not corrode metal  parts
*  exhibit good U.V.  stability
Zotefoams Inc.  products are made by a unique high pressure nitrogen gas solution  process.
The superiority of these products, compared with  polyethylene foams made by other technologies, stems directly from the use of  this high pressure gas technology.
This produces a pure, chemically inert foam without  blowing agent residues and with a uniform cell structure and regular cell walls.  The process comprises three main stages
Product AdvantagesThe unique  manufacturing process results in arrange of unique properties which, in turn,  can help to differentiate the finished product from those made using other  foams
Some examples of these properties translating into  applications are discussed below;
A Very Pure  Product
Because there is no chemical blowing agent  used, the resultant foam product is very pure. This gives rise to the  following
| | |
| --- | --- |
| Biologically  inert  | important for  health care applications |
| Very low  fogging | important in  optic applications |
| Does not smell | Helpful for all production |
| Ammonia  free | Some packaged  products are sensitive to ammonia contamination.Our foam products are ammonia  free |
Very Regular Cell Structure With Minimal  Density Variation
This means that designers do not  need to over specify in order to take account of density variations within the  sheet. this therefore implies;
| | |
| --- | --- |
| Lighter  foam | This is valued in cushion packaging where weight savings can be  vital. |
| Predictable  properties | Important when  designing molded components or packaging sensitive  products. |
| Stronger  foam  | Density for  density our foams are tougher and stronger than other foams. This is appreciated  in most applications where performance is part of the  specifications. |
Specification

:
Properties

Method

Units

Typical  Value

EV45CN

LD50CN
Density
ASTM D3575-84
lbs / cu ft
2.8 nominal
3.1 nominal
Volume Resistivity
ASTM D991-89
ohms-cm
10E3
10E3
Contact Corrosivity
Fed Std 101C Method 3005
Pass
Pass
Operating Temperature
Internal
Degrees F
-95 — +150
-95 — +200
Tear Strength
ASTM D3575-84
lbs / in
17
16
Tensile Strength
ASTM D33575-84
psi
80
85
Elongation at break
%
165
50
Water Absorption
ASTM 3575-84
lbs / sq ft
< 0.02
< 0.02
Conductive Foam  Products
LD50CN Conductive Cross-linked Polyethylene Foam, High Density (Insertion Grade)
Description
Part Number
1/8" thick, 36" x 60"
PB2CF4HD
Call for Pricing
1/4" thick, 36" x 60"
PB2CF6HD
3/8" thick, 36" x 60"
PB2CF7HD
1/2" thick, 36" x 60"
PB2CF8HD
EV45CN Conductive EVA Copolymer Foam, Low Density (Cushioning Grade)
Description
Part Number
1/8" thick, 37" x 57"
PB2CF4LD
Call for Pricing
1/4" thick, 37" x 57"
PB2CF6LD
3/8" thick, 37" x 57"
PB2CF7LD
1/2" thick, 37" x 57"
PB2CF8LD