Product Description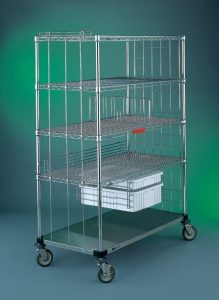 SUPER ADJUSTABLE 2/SUPER ERECTA WIRE CARTS
Super Adjustable 2™ / Super Erecta Wire Carts
Adjustability: Shelves can be quickly and easily adjusted at 1″* increments along the entire length of the post.
Improved, rigid design: Super Adjustable 2™'s Corner Release System has been reengineered for improved performance making the product the most rigid, easily adjustable shelving system ever.
Unique Shelf Design: Super Adjustable 2™ offers the patented shelf release method for fast and easy shelf adjustment.
Open-wire Construction: Minimizes dust accumulation and allows a free circulation of air, greater visibility and light penetration.
Unique Post Design: SiteSelect post design, with double grooves every 8″ provides a visual guide for positioning and adjusting shelves.
Available in seven finishes as well as a pallette of designer colors.
System Overview
For the storage of small to tall items.
Built-in 1″ high ledge prevents contents from falling off shelf. Also available in qwikSLOT style. Offered in Super Erecta Brite and chrome finishes, and a large array of designer colors.
B Super Adjustable 2™ Super Erecta Shelves
The easiest to adjust wire shelving system ever.
Simply lift the release on each corner and adjust the shelf at precise 1″ increments in seconds. Shelf releases and wedges are reengineered to offer improved rigidity for stationary and mobile applications. Open wire design minimizes dust accumulation and allows free circulation of air.
C Super Erecta Shelves
The original wire storage system.
Adjust quickly and easily at 1″ increments along the height of the post. Open-wire design minimizes dust accumulation and allows a free circulation of air.
D Super Erecta Solid Shelves
Setting the standard for solid shelving.
1/8″ raised edge on all sides is perfect for applications prone to spillage or contamination. Three styles: Flat, Embossed, and Louvered/Embossed. Available in stainless or galvanized.
E Super Erecta SiteSelect Posts
Grooved at 1″ increments and numbered at 2″ increments. Posts are double-grooved every 8″ for easy identification. Available for stationary and mobile applications.
F Casters
Use with Super Erecta posts and shelves to create a mobile shelving unit. Many types including swivel, swivel/brake, and rigid are available. Metro also offers dolly trucks and plate casters for heavy-duty applications.
Accessories
G Shelf Dividers
Eight-inch high, pressure fit dividers keep shelf contents orderly.
H 4″ High Stackable Ledge
For stationary or mobile applications. Ledges prevent items from protruding or falling from shelves.
I 1″ High Stackable Ledge
J Shelf Markers/Label Holders
Shelf Markers are 6″ x 11/4″ and are available in seven colors. Label Holders are 11/2″ high and are offered in three styles: flat, slanted and clear.
K Super Erecta Slide System
A Super Space Saving Solution.
Adapts to 21″ or 24″ wide Super Erecta or Super Adjustable 2™ wire shelves. Custom slide configurations can be positioned quickly and easily on new or existing Metro units. Slides accept Metro tote boxes. Chrome finish.
L Rods and Tabs
Form side and back enclosures, or interior dividers, for a shelving unit. Finishes: chrome, stainless.
Enclosure Panels
For stationary or mobile applications.
For use with Super Erecta wire or solid shelving, or Super Adjustable 2™ wire shelving.