Product Description
Available in either a 4-, 6- or 8-oz. bottle with either Standard or Purity stainless steel pumps with air tight check valves.
ESD SAFE SOLVENT DISPENSERS, by R&RLotion, Made in the USA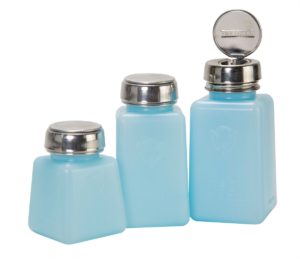 Static dissipative dispensers come with a stainless steel pump with air tight check valve or Purity pump that protects against cross contamination by keeping fluid from returning to dispenser. Features an average surface resistivity of 10E9 to 10E10. and can dissipate a ±5000V charge in less that 2 seconds at 40% relative humidity.
Description
Part Number
Case Price
4-oz. Solvent Dispenser, Std. Pump, 50/case
RSD-4-ESD
$ 810
ORDER  NOW
4-oz. Solvent Dispenser, Purity Pump, 50/case
RSD-4-ESD-AS
$ 952
6-oz. Solvent Dispenser, Std. Pump, 50/case
RSD-6-ESD
$ 810
6-oz. Solvent Dispenser, Purity Pump, 50/case
RSD-6-ESD-AS
$ 952
8-oz. Solvent Dispenser, Std. Pump, 50/case
RSD-8-ESD
$ 810
8-oz. Solvent Dispenser, Purity Pump, 50/case
RSD-8-ESD-AS
$ 952