Product Description
Simco-ION Model 5802i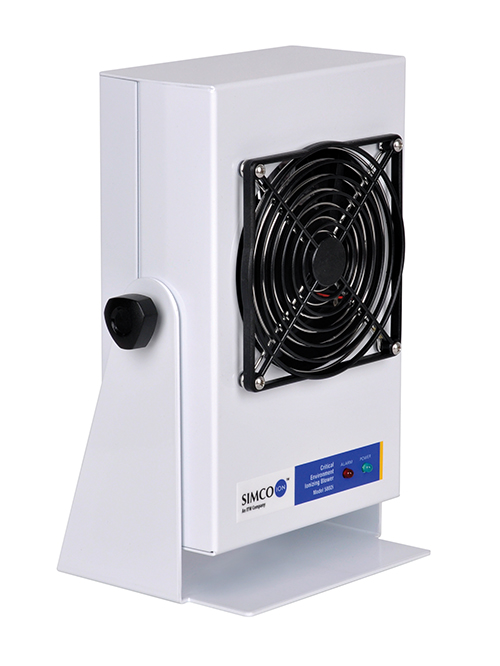 Adaptable Cost-saving Ionizing Blower with Optional Auto-clean System / ISO Class 4 /with External Sensor Control 
Simco-Ion's Model 5802i Blower provides reliable, fast static charge control for benchtop work areas and small spaces, allowing optimal electrostatics management that minimizes cost and maximizes protection for ESD-sensitive areas. An internal automatic balance correction system ensures ionization continues to reach your target with complete accuracy presenting a significant time and cost savings.
±3V or better balance (±1V with the optional external feedback system)
Cleanliness rated at ISO 14644 Class 4 (Fed. Std. 209e Class 10)
Unique airflow directing collimator option
Options for sensor input, FMS connection, alarms, fan speed and management control
Auto-Clean system optional
| | |
| --- | --- |
| Input Voltage | 24 VDC |
| Discharge | With collimator installed better than 1 sec @ 1 ft (typ), taken in-line from the center of the fan (±1000-100V); without collimator better than 2 sec @ 1 ft (typ), taken in-line from the center of the fan (±1000-100V) |
| Balance | Better than ±1V (typ) with external sensor; ±3V (typ) without sensor |
| Cleanroom Class | Meets ISO 14644-1 Class 4 (Fed Std. 209E Class 10) |
| Dimensions | 10.5H x 7.6W x 5D in. (26.7H x 19.3W x 12.7D cm) |
| Weight | 3 lb (1.36 kg) |
Part# 91-5802i-CXL  5802i Benchtop Corona Blower with +/- 3V Balance, Powder Coated White Aluminum, Titanium Points, Off/Low/High Fan Speed Control, White Powder Coated Locking Stand, RoHS.
Price $751.00 (Also Available with auto Emitter cleaner call for price)
Related Products Call for Technical Assistance 805-658-0207
TARGET MARKETS
Electronics Assembly
Back-end Semiconductor Processing
Disk Drive
TARGET APPLICATIONS
The Model 5802i is designed to control electrostatic discharge and particle contamination for smaller target critical environments such as an IC test handling tool.